Long Life, Merit & Wisdom

A special one-day prayer retreat
Long Life, Merit & Wisdom
Annual Retreat on the Yoga of Buddha Amitayus
Saturday, February 4, 9am - 3:45pm
---
There is nothing more precious to us than our life. If we have a long life we can complete our spiritual path in this very life. We can also engage in this special practice on behalf of those who are sick or in danger of dying. This traditional retreat is offered each year around the New Year. These prayers are self-guided and sessions are open to everyone.
Schedule:
9am-10:30am: Session 1 (with brief introduction)
11:30-12:45pm: Session 2
2:30-3:45pm    Session 3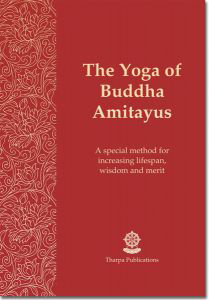 In each of the three sessions we will  use the prayer booklet called The Yoga of Buddha Amitayus.
We will provide copies for you to use in the retreat, and copies will also be available for purchase from our bookshop. 
---
---
Masks are encouraged, but not required.
We encourage you to register in advance, but you can register at the door instead, just before the class.
To register in advance, please fill in the form below, Submit and then select the Buy now button to complete your registration.
---
---
---
One of the greatest gifts of Dharma is that it teaches us how to purify our past non-virtues.