Two Day Fasting & Purification Retreat
A special two day unguided retreat
Nyungne Fasting & Purification Retreat
Wednesday, April 14 - Thursday, April 15
---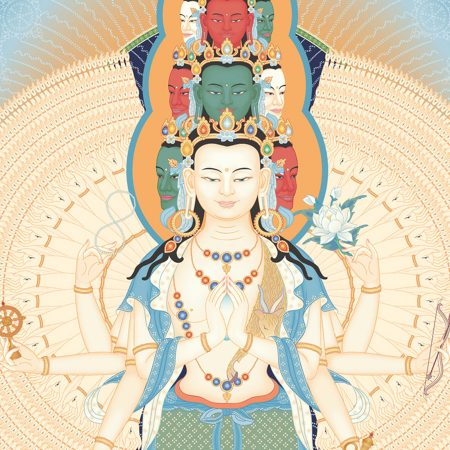 This special, annual fasting and purification practice is done over two days and which begin with taking the Eight Mahayana precepts in the morning. On the first day it is customary to abstain from all meals apart form lunch at 12:30pm. On the second day we engage in a complete fast abstaining from all food and drink for 24 hours. If a full fast is not possible for you, it is acceptable to eat one meal at lunchtime just like on the first day. 
After taking the precepts, where we promise to abstain from negative actions of body, speech and mind for that day, we engage in three sessions of the practice called Drop of Essential Nectar, where we make prostrations to 1,000-armed Avalokiteshvara, Buddha of Compassion.
Prostrations can be done full-length, half-length, or simply standing with our hands pressed together at our heart.
These practices are powerful for purifying negative karma of body, speech and mind and for pacifying strong delusions such as uncontrolled desire, anger and jealousy. It is also a special method for improving our experience of love, compassion and bodhichitta.
This retreat is self-guided practice and no teachings are given.
Cost & Booking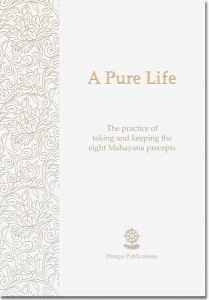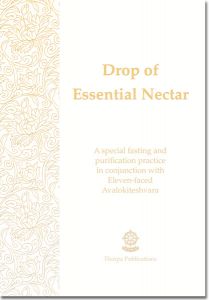 Participants will need the Prayer Booklets, A Pure Life and Drop of Essential Nectar. If you need to purchase a copy of either or both of these booklets, and pick them up at our Centre, please email us at admin@meditateinottawa.org.  Alternatively, an e-copy can be downloaded from tharpa.com .
One of the greatest gifts of Dharma is that it teaches us how to purify our past non-virtues.