Introductory Level Classes
TRANSFORMING NEGATIVE THOUGHTS & EMOTIONS
with our Resident Teacher Gen Thekchen
Tuesday evenings, 7-8:15pm
Sept. 5, 12, 19 & 26, & Oct. 3 
$12 | No cost for members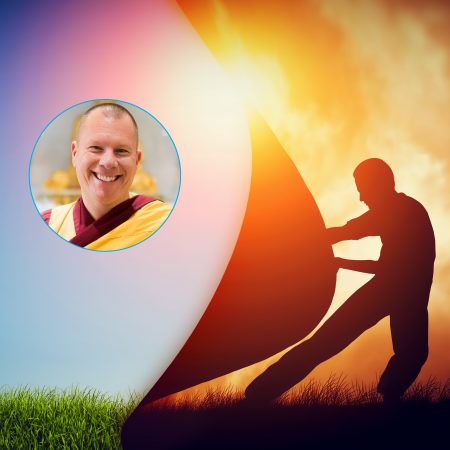 We all have habitual emotions and ways of thinking that seem to make our stress and problems worse.  Buddhist psychology offers a clear explanation of these states of mind, which are called the delusions. Through learning to recognize the early stages of their development in our mind, these negative thought patterns can be weakened and replaced with positive peaceful states of mind.
In these classes, Gen Thekchen will explore how to transform these negative states of mind into positive ones both in meditation and in daily life.  Each class includes 2 guided meditations and a teaching.
Class Schedule
September 26 – Turning frustration into patience
October 3 - Turning self criticism into acceptance
October 10 - No class because of International Fall Festival (Offering to the Spiritual Guide Prayers scheduled)
October 17 -  Turning "what about me?" into "What about you?"
October 24 -  Turning jealousy into rejoicing
October 31 - Turning pride into humility
November 7 -  Turning fear into courage
November 14 - Turning distraction into concentration
November 21 - Turning confusion into wisdom
November 28 -  Tantra: turning the ordinary into the pure
---
Click for more info on the class teacher
Gen Kelsang Thekchen
---
Registration
---
Masks are recommended but not required.
We encourage you to register in advance, but you can register at the door instead.
Please fill in the form below, Submit and then select the Buy now button to complete your registration.
---
---
---
$40.00 4-class cards are available at the door
---
Attend these classes, and all our weekly classes for free, by purchasing a KMC Ottawa Monthly Membership -  
click here
As conscientious Dharma practitioners, we should observe our own shortcomings instead of being preoccupied with those of other people.